If you're looking for a natural way to improve your hair's texture and shine, pumpkin seed oil for hair may be a good option for you. Additionally, pumpkin seed oil may help prevent hair loss and promote hair growth, and it can help fight against frizz and flyaways. Finally, pumpkin seed oil may also help keep your hair looking healthy over time.
Pumpkin seeds are a superfood—they are one of the best sources of vitamins, minerals, antioxidants and protein, all of which are crucial for healthy hair. The good news is that oil made from pumpkin seeds (pepitas) provides all the benefits of the seeds in an easy-to-use form. Here's why you should add pumpkin seed oil, or PSO, to your hair care routine—it has six beneficial properties. They are:
Pumpkin seed oil is a medium-weight oil, with a similar melting point to coconut oil; it becomes liquid at around 76°F (25°C). This makes it helpful for moisturising dry hair; just be careful not to use too much, as this may cause oily hair. Try using half a teaspoon of PSO to treat half a palmful of dry hair.
Pumpkin seed oil also makes hair shine, thanks to its high content of linoleic acid, an omega-6 fatty acid that contributes to hair health. In fact, pumping up the linoleic acid in your hair can also improve hair strength.
The array of vitamins, minerals and antioxidants in pumpkin seed oil strengthens hair. Just two tablespoons of pumpkin seed kernels yield around 1.2 milligrams of biotin, a B vitamin that strengthens hair and nails and fights fungal infections. Pumpkin seed oil is also a rich source of the antioxidants manganese, zinc and tryptophan, which fight free radicals that can cause cellular damage; this damage can lead to hair loss and colour change.
The array of anti-inflammatory fatty acids in pumpkin seed oil helps treat hair damage. These fatty acids include oleic acid, linoleic acid and linolenic acid; zinc also has anti-inflammatory properties, and helps treat hair damage.
Pumpkin seed oil colours hair, thanks to the range of vitamins, minerals and antioxidants that fight oxidative damage. This damage is what causes colour change in hair. The most common pigment in pumpkin seeds is lutein, which colours the seeds. Lutein colours hair, and pumpkin seed oil swells with moisture to enhance the colorant. You won't find a hex code colour close to the natural amber colour of pumpkin seed oil, so treat it as a unique tonal colour.
Did you know that the pumpkin seed oil treatment can revamp existing hair colours, and even colour hair that is new growth but unsaturated?
The pigment properties of pumpkin seed oil enhance hair colours by treating hair colours, highlighting or toning down shades. The oils nourish and strengthen hair, allowing dye to penetrate deeper and last longer. Make sure the oil is 100 percent pumpkin seed oil with no additives to ensure safety on coloured tresses.
How Does Pumpkin Seed Oil Help Against Hair Loss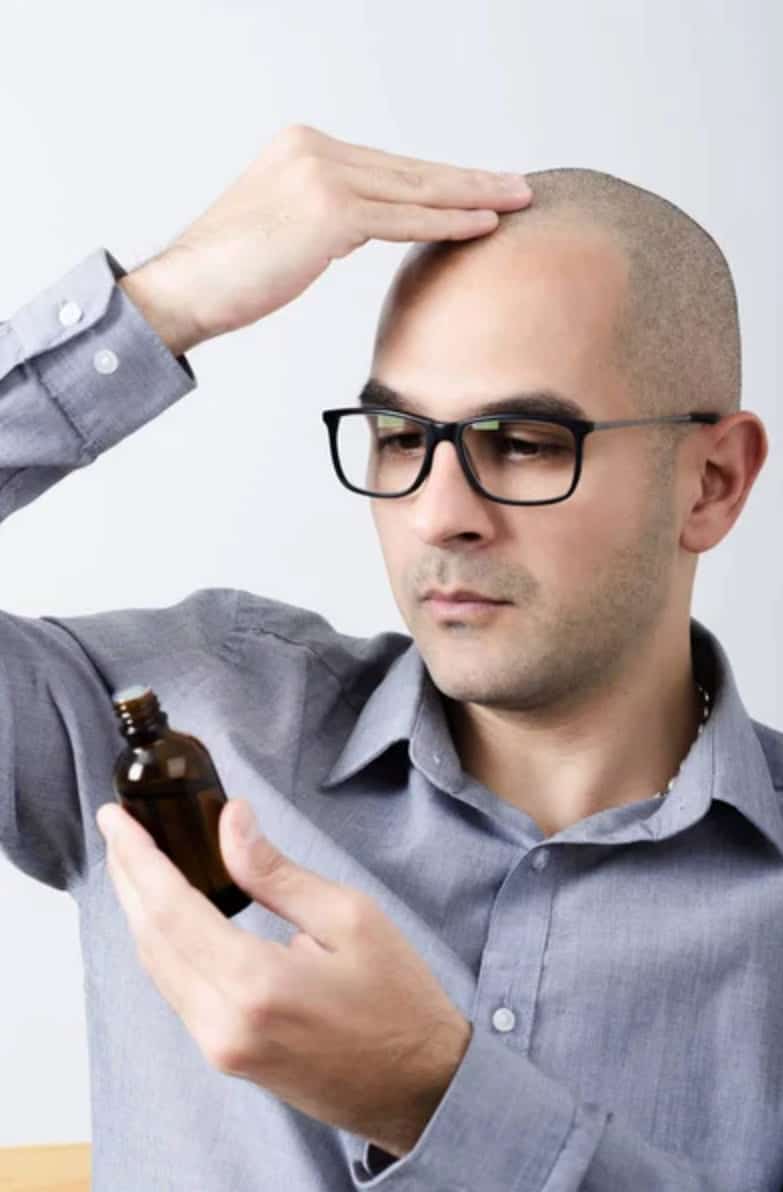 Pumpkin seed oil is rich in nutrients like zinc, magnesium, and omega-3 fatty acids, which are all essential for healthy hair. Zinc helps to keep the scalp healthy and promotes hair growth, while magnesium strengthens the hair shaft and prevents breakage. Omega-3 fatty acids help to nourish the scalp and hair follicles, keeping them healthy and promoting hair growth.
Pumpkin seed oil has been shown to be effective in reducing hair loss. The science behind this is that pumpkin seed oil contains an active ingredient called cucurbitin, which has been shown to block the action of 5-alpha-reductase. 5-alpha-reductase is an enzyme that converts testosterone to dihydrotestosterone (DHT). DHT is a hormone that causes hair loss. By blocking the action of 5-alpha-reductase, pumpkin seed oil can help to prevent hair loss.
How long does it take for pumpkin seed oil to grow hair?
There is no definitive answer to this question as it depends on a number of factors, including the individual's hair type and health, the oil's quality, and how often it is used. However, some people have reported positive results after using pumpkin seed oil for hair growth for several months.
How to apply pumpkin seed oil?
First, wash or shampoo hair to remove any styling product or residue. Then, apply the pumpkin seed oil directly to dry hair; you don't need to wet your hair first.
Spread the oil into sections of hair, concentrating on the bottom half of hair but stretching up to the ends. Leave the oil in for 12 to 24 hours, depending on how intense you want the treatment to be. During this time, make sure you don't slide a cap on or wrap your hair; allow the oil to breathe.
The oil swells with moisture, assisting colouring agents to move between the cuticle and cortex of the hair shaft, allowing deeper coloration. This deep absorption also reinforces nourishing protective chemicals inside the hair shaft.
After this time has passed, wash your hair as normal, and enjoy significantly stronger and healthier hair. To maintain these benefits, repeat the process once a week.
Home-made Pumpkin Seed Oil for Hair Treatment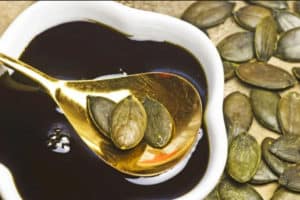 If you want to create your own pumpkin seed oil treatment at home, you will need the following ingredients:
-1/2 cup of pumpkin seed oil
-1/4 cup of carrier oil (coconut oil, jojoba oil, etc.)
-10-15 drops of essential oils (optional)
Instructions:
1. Mix all the ingredients together in a bowl or jar.
2. Apply the mixture to your hair and scalp, massaging it in for a few minutes.
3. Leave it on for 30 minutes to 1 hour, then shampoo and condition your hair as usual.