Beard Transplant
Method Used: FUE (Follicular Unit Extraction)
Cost: £3,000 – £6,000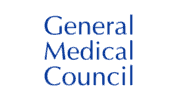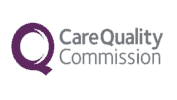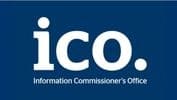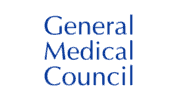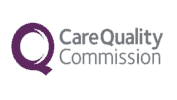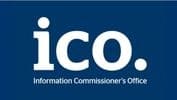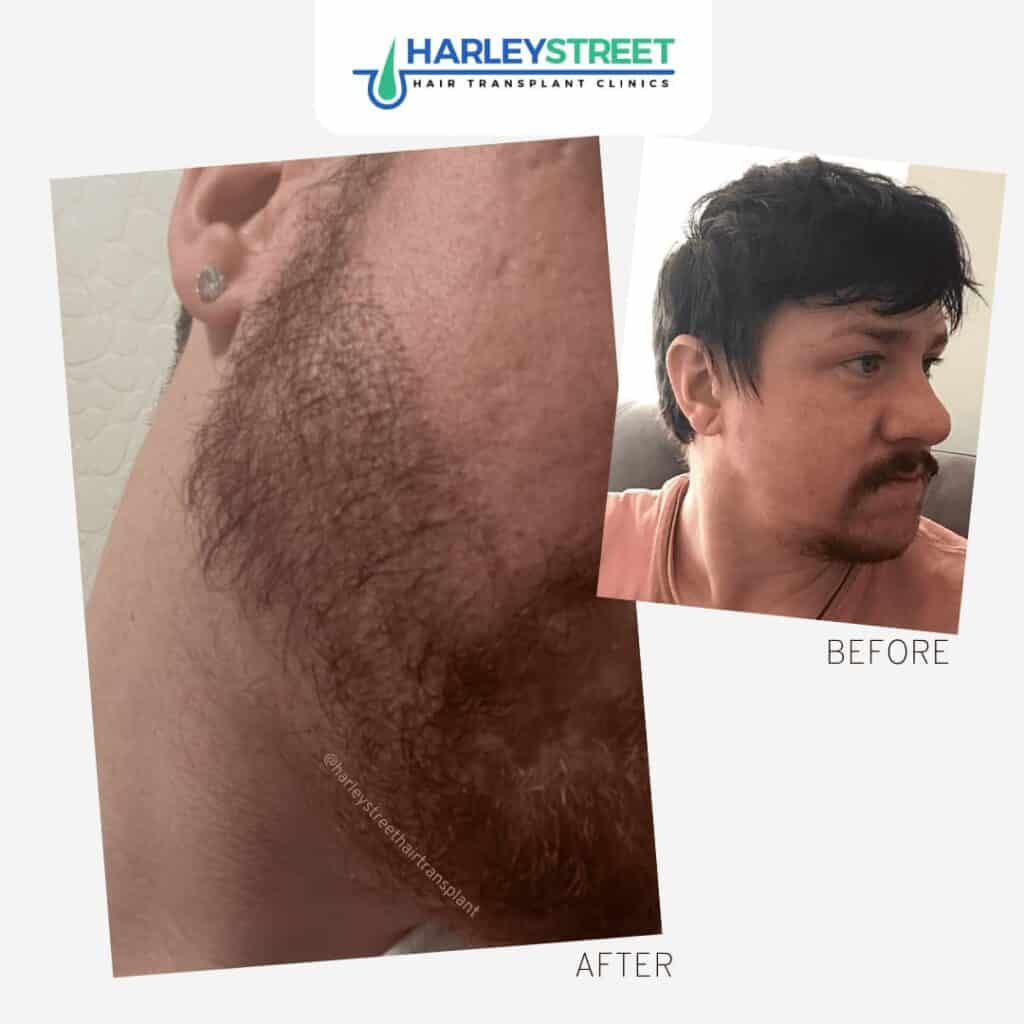 Beard (Facial Hair) Transplant London
At Harley Street Hair Transplant Clinics, we are well aware of the pressures facing men to look good all the time! With a healthy beard being considered as a sign of good health and looks, many men come to us looking for a beard transplant.
A beard transplant, or facial hair transplant, in essence transplants (or "transports") healthy hair follicles by implanting them from the patient donor area (which is typically the back of the patient's scalp) onto the areas of hair loss of the beard area. All of our beard transplants are carried out by certified hair transplant surgeons. Hair loss, or having sparse facial hair, is a common problem for adult men of all ages.
If you're concerned about facial hair loss, here's some helpful information to help you regain your confidence.
What is a Beard Transplant?
Put simply, a beard transplant is a facial hair restoration procedure that works by transplanting your own hair (from other areas of your body namely the back of your scalp), and implanting them into the affected area. A beard transplant is a clinically proven method to treat hair loss in your beard and moustache areas of your face.
How Does a Beard Transplant Work?
After booking your free consultation with one of our hair transplant surgeons, you will both decide on the beard transplant procedure that is not only going to maximise your end results, but work around your busy schedule.
On the day of your beard transplant, the FUE procedure requires the need for local anaesthetic. This will ensure you won't feel a thing and can fully relax during the procedure.
Following this, the new beard design will be performed and is then followed by hair extraction from your donor area. The donor area is the area at the back and sides of the head as these follicles are not affected by the hair loss hormone dihydrotestosterone (DHT) and thus are the perfect ones to use. They will then be implanted into the affected area.
Fast forward a few months in order for your new beard hair to grow, you will notice that your new beard will have a natural appearance, looking much fuller than before. What is even more impressive is that your transplant will continually promote beard growth long into the future. It really is a long-term solution!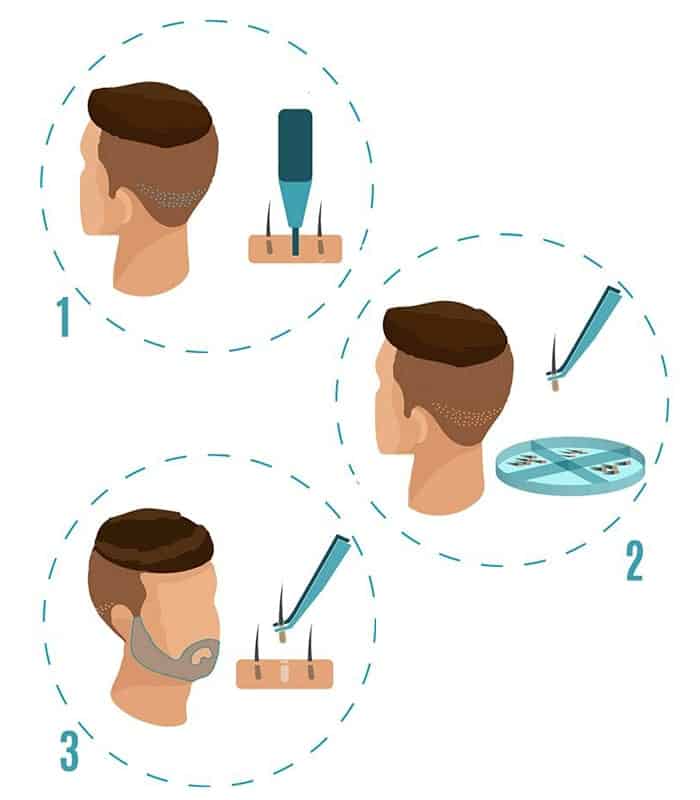 Results and Beard transplant Aftercare
The results of FUE surgery are certainly to be desired! When compared to alternative treatments, no other procedure or remedy quite compares. FUE not only ensures that you will leave our clinic with results that are almost noticeable immediately, but that you will be able to grow a fuller beard for years to come.
With FUE surgery, you can typically expect all scarring to have healed within 6-7 days. Moreover, as there are no need for stitches (as there is with FUT surgery), no patient has complained of scalp tightness or major pain after the surgery.
If, however, you have any problem after your surgery, our clinic prides itself on offering industry leading aftercare. Don't hesitate to get in touch with us at: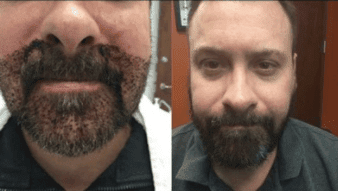 Why Should I get a Beard Transplant?
There are many reasons as to why patients come to us wishing for a beard transplant. Whether it be for a medical purpose, a decision to cover up visible scarring, or a need to restore some much needed self confidence, we have you covered! Anyway, on with the explanations…
Alopecia Barbae, defined as hair loss in the beard area, is a common problem facing men of all ages. Characterised by symptoms such as hair shedding, redness on the face and neck, the appearance of bald spots on the face, there are a range of explanations for the condition:
Facial Trauma – the experience of physical trauma, from events such as car crashes or chemical burns, are a common explanation for facial baldness. Many patients who have experienced this want a beard transplant to hide any signs of visible scarring.
Medical Treatments – Often, cancer treatments such as chemotherapy and radiotherapy have many negative side effects. One of which is the experience of hair loss all over the body. Unfortunately, beard hair is no less susceptible.
Alopecia Barbae – This autoimmune disease, sometimes labelled as the 'smaller brother' of alopecia areata, is where the body's immune system attacks (and shrinks) hair follicles in the facial area.
Trichotillomania – this is the name given to a psychological condition in which patients (often unknowingly) cause facial hair loss through constant touching, pulling, and straining of the beard.
According to YouGov, it is currently estimated that 55% of men across the world have beards. What's more is that this number is seen to be continually rising across the world. Even in Britain, the percentage of men with beards has increased from 37% in 2011 to 42% in 2016. As a result, those unable to grow fuller beards look for solutions to fit in with this rising trend.
FAQs
A beard transplant can cost anywhere between £3,500 and £6,000. This variance in price is predominantly down to the severity of each patient's baldness. With FUE and FUT transplants, patients pay based on the number of grafts that are transplanted.
FUT: Between £2 and £5 per graft used.
FUE: Between £1.89 and £3.99 per graft used.
Whilst beard transplants and hair transplants are carried out using the same techniques, the main difference between the two is where donor areas can be found. In the case of hair transplants, donor hairs are often taken from the back and sides of the head, behind the ears. Typically, donor hairs for a beard transplant are almost exclusively taken from the back of the scalp. This is down to the length and colour of the follicles being a great match for your existing beard hairs.
As with any surgery, if any part of the skin is broken, it can leave a little or faint scar that will heal if you give it time. Despite this, with FUE surgery our surgeons use instruments that are less than 1mm un diameter. his means that any initial scarring is unlikely to be seen in the moustache, sideburn, or beard area.
After the procedure, our advice is to avoid shaving for around 2 weeks. This is because your skin may be swollen or tender in the immediate aftermath of your treatment.
As a beard transplant is performed whilst you are given local anaesthetic, it is a relatively pain free procedure. Post surgery, you may experience slight inflammation and redness in the donor and recipient areas.
Patient Testimonials
Aside from achieving fantastic results, we believe that keeping in touch with our patients before, during and after their hair transplantation procedure is paramount – it helps to keep our patients feeling calm and in control. We're always on hand to provide guidance, support and aftercare advice. Time and again, our patients tell us that this is what sets us apart from other clinics.
You can read our great reviews of FUE hair transplants over on Google and TrustPilot
Very few can deliver a professional service whilst ensuring that all clients receive first -class personalised treatment, turning what can be a daunting experience into something of relative ease. Both Kevin, Dr Karla, and their surgical team certainly did this (and then some!) Once my mind was made up to have hair loss treatment, I was keen to get my transplant done asap. Kevin exceeded all my expectations with this - it's hard to believe that my journey from first consultation to surgery happened in the space of one month. Efficiency did not stop there - on the day of surgery, my transplant was completed in less than 6 hours, all the while ensuring that I was comfortable and pain-free. Security is the best word that comes to mind to describe Dr Karla's care -you know you're in experienced hands! Now I can look forward to the results over the next few months, with the added peace of mind that the Harley Street Clinic team are only a phone call or email away to address any concerns. They will be the first name I will recommend to anyone looking for effective hair loss treatment, and I hope to make use of their service again in the future should I need it.
Dr karla is an excellent Dr gives out great advice and is so friendly I have enjoyed meeting the team overall kind and friendly team 10/10
Spencer Aldridge
17/03/2022
From my first contact with Kevin he has provided great customer service, responding quickly or questions, offering consultations and giving me time to make my decision (not a salesman like I have experienced before). He is extremely knowledgeable in this area and so far everything he has told me has been true! Dr Kalra is a fantastic doctor and he knows everything there is to know about hair loss, I trust him completely. The surgery went smoothly, some of the injections hurt at the start but after that it's the sitting still for hours that is the hardest part. The nurses were also brilliant they were happy to talk to you if you initiated conversation but didn't chew your ear off if you were quiet. It is 4 months since my surgery and the the hair in the top of my head is almost fully covered with a few thinner spots where I previously had no hair at all, it seems to be noticeably thickening up weekly so I think one more month and no one would ever know I used to be bald! The donor area was completely healed and unnoticeable after 4 weeks. The aftercare has also been great, I have followed the instructions and I am very happy with the results so far.
I got a hair transplant and PRP for my hair. Im 19 years old and it's the best decision I made so far. Manchester hair transplant clinic have been amazing. They were brilliant at welcoming me into getting a hair transplant and amazing at doing the job right. I will defiantly be going to them later on in my life if/when another is needed due to my age. I would highly recommend their service to anyone interested 😊
Richard Morris
17/02/2022
So after years of thinking about having a hair transplant i finally phoned up Harley street hair transplant clinic and spoke to Kevin who was extremely helpful answering all my questions.The transplant was on the 29th Jan 2022 by Dr Kalra and his team who made me feel really relaxed and comfortable. They were all very professional and very friendly. The procedure went great, no pain at all and I was extremely happy with the results. I can't thank Kevin, Dr Kalra and his team enough, even the after care was unbelievable, thanks again guys. Highly recommend, 5 star service all day long. Cheers Richie
I was quite scared before going into surgery, but Dr kalra reassured me the procedures were straight forward and easy going. And he was amazing and so were the team. Everyone was polite and professional and I will recommend this team to anybody else 🙂
Anthony Davies
10/02/2022
Had my FUE hair transplant on Saturday 5th February 2022 for receding hair line and balding crown. I've been thinking about a hair transplant for the last 2 years, I've heard bad stories and good stories as you do when you look through the internet or watching YouTube videos. I spoke with Kevin in January, great with explaining everything and putting me at ease (as I naturally worry about anything and everything). I wanted the surgery done as soon as possible after speaking to Kevin as everything felt right. Kevin arranged this for me and before I knew it here I am after surgery thinking what was I ever worried about and why didn't I get this done sooner, however, things happen for a reason and that reason I hadn't had it done sooner was I hadn't found the right place or team to do the transplant and I'm glad that happened as I found Harley street hair transplant. I would highly recommend Kevin - Dr Kalra and his team. Thank you all for giving me my confidence back and making me feel like a different person. I am 4 days into my recovery and feel great. If you are reading this review and are like me with worrying about everything then please stop worrying, you are in safe hands before, during and after the procedure with Kevin, Dr Kalra and his team, just go for it. Thank you all again 😁
Massive Thankyou to all the team . After months of indecision as to wether to have a hair transplant or not ,i finally made the decision to make that first call,im so glad i did,im so pleased i went with Dr Khalra and his team. I first spoke to Kevin he come across as a very honest and genuine guy who was certainly very knowledgable about all the procedure ,after speaking to him i decided that these were the people i wanted to go with. On the day of the procedure i was very nervous,but on meeting Dr Kalra and his team i was immediately put at ease ,he was very reassuring and such a lovely friendly guy as was his team,It was all very proffesionally done in a lovely clean and modern clinic in Bury. Throughout the day i felt i was in really good hands with Dr Khalra and his team Naz and Raz ( hope ive spelt it right). Im now 7weeks into my Fue hair transplant and looking forward to the coming months to see the results . Ive no hesitation in recommending Dr Khalra Kevin and the team ,they are definitely the right people to go to if you are considering having a procedure done . Again i cant thank you enough . Mark..
Great experience, Kevin walked me through every step of the process beforehand and helped with any questions I had along the way. Dr. Kalra and the team looked after me on the day which went great. Thanks guys for your help, amazing experience.
Share This