Whether you know him from I'm a Celebrity, Get me Out of here, or as your favourite singer, Boy George is certainly a musician with a legitimate claim to fame. Whilst he's an artist synonymous with wearing a hat most of the time, did you know he has recently confessed to having a hair transplant?
Boy George: Who is He?
Boy George is the lead singer from the pop band Culture Club. Known across the globe for his incredible voice and androgynous appearance, he's responsible for hit songs such as "Karma Chameleon", "Time", and "Do You Really Want to Hurt Me?"
Along with Duran Duran, Spandau Ballet and Soft Cell, Boy George helped to bring the New Romantic Movement into popularity. It's a style greatly inspired by the prior work of David Bowie, Roxy Music, and many other Glam Rock pioneers.
In the height of his fame, the Culture Club frontman was known for his long extravagant hairstyles, often dyed, and with a fringe. You'll see them in any of his music videos. Ah, those were the days!
However, in more recent times, the Karma Chameleon hitmaker seems to have been suffering with signs of hair loss. In an infamous picture of the pop star in 2009, you'll see him showing off his skull shaved, tattooed head.
During the early 2000s, it's rare to see a picture of Boy George without a hat on. In fact, Boy George even admitted on ITV's This Morning that he has amassed a collection of 300 hats!
I'm a Celebrity: Has Boy George Had a Good Hair Transplant?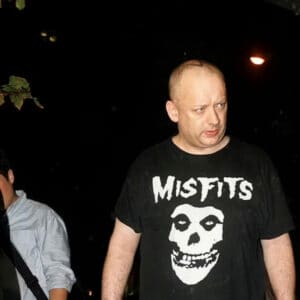 Boy George's new hair was first released to the world on the 7th of November 2022, when viewers of I'm a Celebrity lost their minds seeing him without a hat on.
The typical Boy George Hat even made an appearance during his entrance to the show when he wore a khaki green, Pharrell-style hat.
On the show, the iconic hat was finally ditched when the pop star showed his head to fellow contestant and viewers. The results of his hair transplant were staggering
So, what did his hair transplant surgeon do? Well, Boy George looks to have a fantastic hairline for his age. It's likely that his hair transplant surgeon reshaped his hairline, levelling out his hairline from the front to his temples.
The typical "m-shape" we see in cases of male pattern baldness has been straightened out, making him look younger. His hair also looks full and thick, but it's difficult to tell if he has had any work done to his crown area.
What Hair Transplant Surgery Has Boy George Had?
Actually, it's difficult to say what type of hair transplant surgery Boy George has had. It's probably easier us beginning this by ruling out the hair transplant methods he definitely hasn't had.
It's Probably Not FUT…
We can likely rule out Follicular Unit Transplantation (FUT) as a hair transplant method. FUT hair transplants, often called "strip" surgery will leave a nasty scar on the back of a patient's scalp. This is where a long strip of skin is excised using a scalpel.
In recent pictures and videos of Boy George, we can't seem to find any evidence of a scar in his donor area. So, it's unlikely to be FUT.
What's Our Guess? Probably FUE or DHI.
If a person has stated that they have had a hair transplant surgery and there is no sign of a linear scar, then the likely surgical method used will have been Follicular Unit Extraction (FUE) or Direct Hair Implantation (DHI).
FUE and DHI are, in all honesty, very similar treatments. Both methods look to extract donor hairs (called hair grafts) individually, before implanting them into the bald head or temple area. There shouldn't be any long-lasting scars that a patient would otherwise get with FUT.
These hair loss treatments are perfect for reshaping the hairline and, in some cases, can even be used for beards and eyebrows. Although, it's pretty clear Boy George has only had his hair done.
With a hair transplant, there's no need for a very good hair system (wig) or hat any more. Boy George definitely has an incredible head of hair for 61 years old!
Why Did Boy George Choose to Have a Hair Transplant?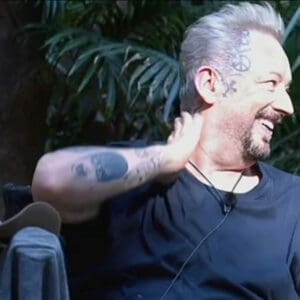 Boy George mentioned on the show I'm a Celebrity Get me Out of Here on Sunday the 13th of November 2022 that he was inspired by Wayne Rooney to find out more and get his hair transplant done. Of course, we'll never know for sure why Boy George chose to have a hair transplant surgery. Only speculation exists around this topic. However, there are a number of reasons why hair transplants have become popular with other men his age. So, here are a couple of reasons why he may have opted for one:
Male Pattern Baldness
One of the most likely causes of hair loss in men is a condition called male pattern baldness (Androgenic Alopecia). By the age of 40, almost half of men will suffer with this condition.
Typically, pattern hair loss will begin in the temples (this is called a receding hairline) and progress to the crown area. In severe cases of pattern baldness, temple recession and crown thinning will meet in the middle, causing total baldness on the top of the head.
Whilst we'll never be sure how much Boy George truly receded before his hair transplant, when the pop icon had begun to regrow his hair in the 2010s, it's clear that he was between a stage 2 and 3 on the Hamilton-Norwood Scale.
During these years, it is clear his temples had begun to recede high into his temples. He also had a naturally high hairline.
Persistent Hair Dying
Over the years, Boy George's unique style has been characterised by his dyed hair. Since the 80s, he has certainly been no stranger to dying his hair. Most famously, it has been red.
However, continuous bleaching and dying can often be terrible for the long term health of your hair follicles. Bleaching can often make your hair dry, inelastic, and brittle.
Although it's unclear, this may well be a reason why Boy George suffered with hair loss.
Scalp Tattoos
In rare cases, hair loss can occur after a person has had a tattoo. Stress upon the dermic layer of the skin; the location where your hair follicles are housed. By upsetting your skin, this can sometimes cause hair loss, or
Concluding Remarks About Boy George's Hair Transplant
For years, Boy George appeared with his bare head covered. His simple style statement, the "Pharrell" hat, had served him well, covering signs of hair loss. However, when the pop icon finally showed his light grey hair to the world and fessed up to a hair transplant, it's most likely that he opted for an FUE or DHI treatment.
*images courtesy of the Daily Mail